Now a Whiskey on the Rocks is called "Rocks in the Whiskey"
Good whiskey drinkers know what happens when they ask for a whiskey on the rocks on a hot day, the ice melts and the precious drink is watered down, without grace or flavor.
It was then, thinking about it, that a group of workers from Perkinsville, Vermont, created  Whiskey Stones: "stones" to cool the drinks without altering them.
Easy Use of  Whiskey Stones
All you have to do is place the Whiskey Stones in the freezer for a few hours, as well as to make ice and then put them in the glass, like any "ice stone".
The difference now will be that our whiskey will always be freshly served, without receiving melt water, will not affect the drink and we can literally serve a "Whiskey on the Rocks".
Find Whiskey Stones at Amazon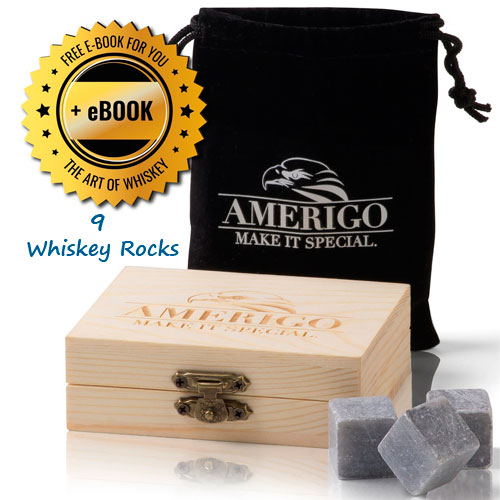 Of all the offers found on Amazon, the Amerigo set has more positive recommendations:
Set of 9 Whiskey Stones
Packaged in an exclusive wooden gift set
Free velvet bag
They are undoubtedly class objects, very detailed and with the long life that a rock can offer.
---
Share with friends:
Facebook: cubirocom
Twitter: @chefcubiro 
---