How to make rice for sushi with electric rice cooker
Who does not like sushi? This is the recipe for preparing rice for sushi, the ingredient that perhaps requires a little practice and which is the basis of the rolls.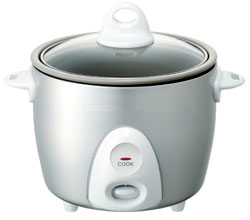 We will need:
Electric rice cooker.
A bowl or large bowl, flat-bottomed wooden or plastic (do not use metal).
A pallet or wooden spoon (or plastic).
A fan or something to fan.
Ingredients:
250 g of rice (round rice is ideal)
375 cc of water
65 cc of vinegar for sushi (suchi-zu)
Instructions:
Wash rice well, as often as necessary, until the water runs clear.
It is important to try to do this in less than four minutes, so that the rice does not tend to split after. This operation is to remove the starch rice.
Pass through a sieve and let stand 15 minutes.
15 minutes.
In the electric rice cooker place the water and washed rice, turn the cooker.
When the rice sounds "Clinnng" is that rice is ready.
Place and spread the rice in the bowl, add the more uniform than vinegar for sushi can and move the paddle to mix it evenly (in about two minutes maximum).
Fanning rice, we need to cool as quickly as possible, fanning and move simultaneously with the palette, fanning hard and with trowel spread
Once the rice has cooled, we can see that was quite sticky, that is the point we want.
Cover the bowl with a damp cloth, and we can begin to assemble the rolls of sushi.
Note:  to vary the amounts consider the following…
Per part of rice used over and half water (for example 250 g of rice, and 375 g of water)
For every 250 g of rice using 65 cc of vinegar for sushi.
A roll out 8 pieces.
If your girlfriend likes sushi, then a cooking session accompanied by music you like, but a few extra little details give you additional points: D.
If your boyfriend likes sushi, you'll see if he deserves it or not,  je je jeee…
Related links: