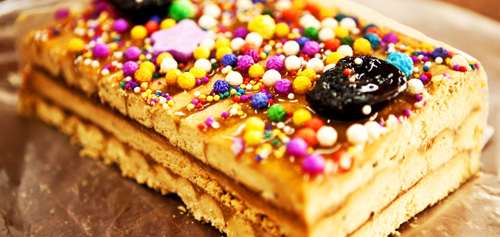 Doña Pepa nougat is a traditional Peruvian dessert associated with the feast of the Lord of Miracles, consisting of three or more layers of flour sticks, dipped in sugar syrup and decorated with lozenges and candies of various shapes and colors. Very Delicious for kids and adults. Let's work it out:
Ingredients:
500 g of  flour
Butter 250 g
2 egg yolks
1/2 cup of hot water
1 teaspoon anise in grain
1/2 teaspoon salt
1/2 teaspoon achiote powder (optional)
Syrup Ingredients:
1 ball of chancaca (400 g)
Water
Peel a ripe orange (or super exotic and delicious: 4 whole kumquats pierced with a fork)
Juice of 1 lemon (or pineapple)
6 Cloves
1 Cinnamon bark
Directions:
Soak anise and achiote powder in the hot water, wait for cool
Sift flour and mix with salt, butter and then the egg yolks
Go adding the mixture of water with anise until a stiff dough
Allow the dough to rest for 15 min

With hands

give

the form of sticks

and put them

in a font that

take

baked

Let browned and puffed a bit, remove and reserve
Chancaca syrup:
In a saucepan place the brown sugar and remaining ingredients except lemon juice
Add water until it covers the ingredients, put to simmer until the brown sugar dissolves and syrup forms
We passed through sieve, add the lemon juice and reserve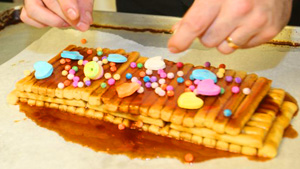 Assembling the nougat:
Important: we need the syrup is warm and fluid
On waxed paper place a layer of sticks, pour syrup, then another  layer, perpendicular layer, and repeat  until 3 or 4 layers ending with syrup
Cover with colored dragees
Let stand 4 hours to be compacted
Serve, enjoy
Tip: For the rods are equal, flatten the dough with a rolling pin; then cut strips of the same thickness and shape canes with floured hands so that the dough will not stick.
Some history: origin of Doña Pepa nougat:
Two sources to traditional Lima dessert, reminiscent of the slave Marmanillo Josefa, from the Cañete Valley, she was a very good cook traditionally ascribed:
The first story and the most widespread in the oral and written history, that in the late eighteenth century, Josefa Marmanillo began to suffer paralysis in the arms, because it was freed from slavery, but at the same time, to keep you from working the disease left her no chance of living. In such circumstances she heard rumors about the miracles performed the image of Christ Pachacamilla, she traveled to Lima, and so was their faith and devotion he recovered from his illness, and in gratitude 

she invented

and prepared its

nougat

,

dedicated to

Christ of

Pachacamilla, now called Lord of Miracles.

The following output of the Lord of Miracles, Josefa raised his nougat, offering it. Returning to Cañete, the slave claimed that Christ had looked smiling while blessing the offering. There is also a version that Josefa led a nougat first time the procession and offered it to Christ Pachacamilla healing to return to Cañete.  In any case, in later years always returned to Lima to offer their nougat in the processions of the faithful purple Christ, a tradition that continued their daughter, granddaughter, and subsequent generations.

 The second version says that a viceroy organized a contest rewarding who made a nice, nutritious food that could be kept for several days: the winner was none other than Josefa Marmanillo, so his nickname "Doña Pepa 'was associated with dessert .